RFD transfer services back online!
For personal collection please make an appointment
on our "Contact Us" page.





Spitfire
The ultimate garden plinker or introductory rifle! The Spitfire is a low weight easy to use rifle that is guaranteed to put a smile on the face of a supervised youngster or the big kid in all adults.
The Spitfire is a single shot pneumatic air rifle that works by simply pumping the rifle with the mounted pump lever and then firing away! This makes the Spitfire incredibly easy to shoot as there is no spring twang or recoil in the shot cycle compared to break barrel air rifles and due to its low weight of only 3.6lbs (unscoped) the rifle can be enjoyed by almost everyone!
Fibre optic adjustable sights are also fitted to the Spitfire as standard and the rifle's are also fitted with a dovetail rail for mounting a scope.
The Spitfire is also available in two colours/styles and can fire both pellets and BB's making the rifle incredibly versatile and cheap to enjoy if using reusable BB's.
Overall the Spitfire is an inexpensive introduction into the worlds of both air rifles and airsoft and either one is almost guaranteed to put a smile on your face.
Spec sheet,
Fires .177 pellets or 4.5mm BB's, Single stroke pneumatic action, High grade synthetic stocks,
Green or red stocks available, Length: 94.4cm, Weight: 3.6lbs, Fibre optic sights,
£75, Comes with free tin of pellets! Contact us for an appointment to view/test the rifle o
r give us a call or text on 07598454971


Nova Vista Alpha Wood/Alpha Synthetic
Brand new for 2018! The Nova Vista Alpha is a new feature packed PCP that offers incredible levels of versatility with a fantastic spec list to go along with it.
Regarding features the Alpha comes as standard with many features found on rifles that are well over twice the price! The Alpha comes as standard with a silky smooth sidelever cocking system which is far easier to use when shooting from a prone position compared to a traditional bolt action system, the sidelever loading system can be used with the included single shot tray and the multi shot magazine which is also included with the package.
Regarded accuracy and consistency the Alphas are also fitted with an adjustable two stage trigger that can be set to either a softer or heavier pull weight depending on the shooters preference and the rifle is also fitted with a built in air pressure regulator. The regulator not only gives the Alphas an incredibly impressive shot count of 150 shots per fill but this also makes the rifle far more consistent as it eliminates the need to find the "sweet spot" in the air tank.
The Alpha is available in two different stocks with both a traditional wooden stock available that features checkering for improved grip and feel and a fantastic raised cheekpiece for better eye to scope alignment and a synthetic stock which features its own uniquely designed raised cheekpiece and the stock itself comes with the added benefit of being more resistant to damage than traditional wooden stocks.
And all of this doesn't only come in at less than £1000.. it comes in well under £500! Your choice in your next PCP just got that much easier.
(power adjustment not available in the UK)
CURRENTLY OUT OF STOCK
Spec sheet,
.177 & .22 calibres available, Length: 43 Inches, Weight: 3KG's. Side-lever action, Pre-charged pneumatic rifle, single shot tray and multi shot magazine included, adjustable power settings (high-low)
two stage adjustable trigger, manual safety,
Alpha wood: £320
Alpha Synthetic £299
Comes with free tin of pellets! Contact us for an appointment to view/test the rifle o
r give us a call or text on 07598454971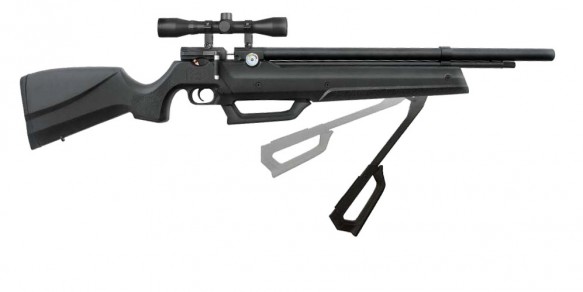 Nova Vista Pneupump
Quite possibly the ultimate starter rifle in the world of PCP's, the Pneupump is definitely worth a look for those that are new to the sport.
A rifle that truly stands out from the crowd, the Pneupump comes with a built in pump to fill the rifle from empty all the way up to 200bar if required completely eliminating the need to purchase a bottle or pump! The pump itself is also incredibly easy to use and can be accessed by simply releasing the pump lock and then you can pump away. A pressure gauge has also been fitted to the side of the rifle so you can keep tabs on how much pressure is in the rifle.
On top of this the rifle is also fitted with an excellent adjustable two stage trigger that can easily be set to the shooters preference boosting the rifle's consistency and if you need to fill the rifle quickly the Pneupump can also be used with an air bottle like a regular PCP with the quick fill probe that comes free with the rifle.
Another feature of the Pneupump that is another excellent addition is an emergency air bleed valve that releases air from the reservoir if the rifle has been overfilled to prevent internal damage.
The rifle comes in a fantastic synthetic stock designed to take some serious abuse which has also been designed with stippling for better grip in adverse weather conditions. Another excellent feature is the handle of the pump itself which has been designed to act like a rifle hamster as seen on many target rifles which helps to hold the rifle still and keep you on target.
The Pneupump is also a true multi-shot rifle and comes with both a self indexing magazine and a single shot tray so both hunters and target shooters will feel right at home.
The Pneupump also comes with a 4x32 scope and mounts for better accuracy at longer ranges, with the Pneupump all you need is a tin of pellets and you're ready to hit the target range almost straight out of the box!
(power adjustment not available in the UK).
Spec Sheet,
.177 & .22 calibres available, length:110cm, weight: 7.9lbs, multi-shot magazine and single shot tray included, 4x32 scope and mounts included, PCP-sidelever action, integrated air pump, Quick fill adapter included,
£390, Comes with free tin of pellets! Contact us for an appointment to view/test the rifle o
r give us a call or text on 07598454971