DUE TO THE GOVERNMENT LOCK DOWN BIG DAN'S AIRGUNS WILL BE
CLOSED UNTIL FURTHER NOTICE.
WE APOLOGISE FOR ANY INCONVENIENCES.
THANKS AND STAY SAFE!

Milbro Military style Scopes.
A tough no nonsense scope from Milbro, the Milbro Military styles scopes can handle anything that even the harshest springer can throw at them.
Despite the price the Milbro scopes are also fully loaded with features, coming with a Christmas tree styled reticle designed to help the shooter adjust for wind that can also be illuminated with multiple settings for lower light conditioned shooting.
To top the scopes off they also come with a built in accessory rail and lens protectors as standard.
3-9x32EG:£40
3-9x40EG:£44
4-12x50EG:£50
Contact us for purchasing and more information, postage available!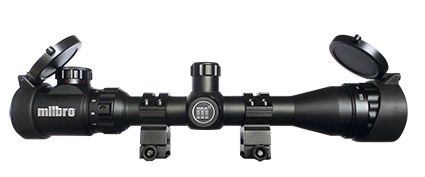 Milbro Clearview
A seriously solid scope that proves that you don't need to spend a fortune to get a quality piece of kit.
The Clearview's feature a wide spectrum of zoom levels from the standard 3-9 up to the 6-24x zoom.
The scopes also all feature an innovative Christmas tree style reticle which helps the shooter judge for wind far easier than a standard reticle, the reticle itself is also illuminated and the Clearview offers multiple settings for illumination and colour.
The Clearview's also feature an adjustable objective and eye relief for a crystal clear image at all ranges.
Also included with each scope is a set of twin screw mounts alongside flip up lens covers and a cleaning cloth/spare battery.
The Clearview's offer a crystal clear image and a ton of features for far less than you'd expect! It's because of the clarity that we've used them in a lot of our video reviews.
3-9x32AOEG:£45
3-9x40AOEG:£50
3-9X50AOEG:£58
4-16X40AOEG:£58
4-16X50AOEG:£65
6-24X50AOEG:£68
Contact us for purchasing and more information, postage available!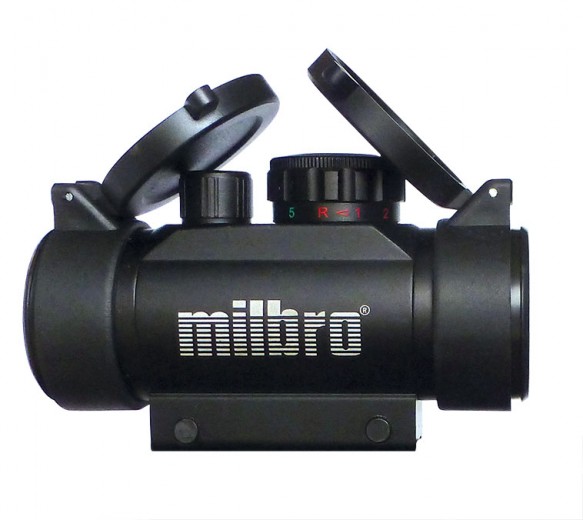 Milbro Red Dot scopes
A tough and dependable red dot scope from Milbro, perfect for close range pest control and light weight rifles.
The Milbro scope uses a standard either red or green dot with multiple brightness and colour settings.
Available in either 1x30 or 1x40 objective sizes, these tough scopes are fully tested to withstand all of the abuse that airgunning can throw at them!
1x30 Red dot:£23
1x40 Red dot:£31
Contact us for purchasing and more information, postage available!